Heading West, Making Musical Stops 'Round The World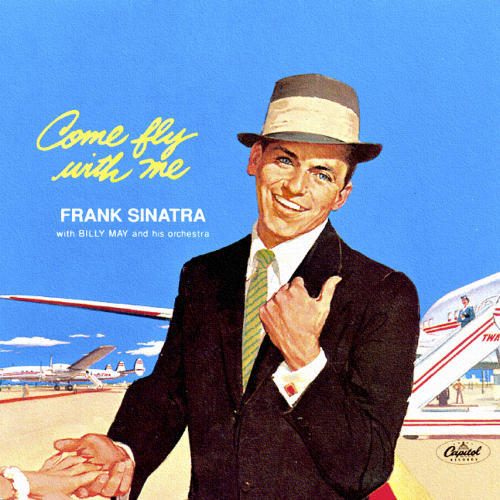 American Popular Song came of age at a time when the world was still large, communication limited, and Faraway Places were exotic and strange. For nearly everyone, young and old, the Far East, Europe, Africa, the North Pole, South America all conjured up romantic fantasies of adventure, excitement, Life! Travel was a luxury of the rich and/or fearless, and the private notion of what such places held in store invaded the imaginations of millions who bought and sang songs shrouded in international intrigue. For that matter, a mysterious locale could also be the next state [or county] over for many Americans confined to their dull small towns or farms.
ALL OVER THE MAP is a musical & anecdotal travelogue beginning in the Eastern US, heading West, ultimately circling the globe.
The intinerary in a nutshell: We´ll Take Manhattan, and then it´s California Here We Come hitting all points in-between getting Our Kicks On Route 66 before booking passage on A Slow Boat To China, making stops in Blue Hawaii & Bali Hai, doing Nagasaki, meeting up with Shanghai Lil On The Road To Mandalay and finding A Bar In Far Bombay, tossing Three Coins In The Fountain and drinking a toast to Wonderful, Wonderful Copenhagen, rekindling our love for Paris When It Sizzles and Foggy London Town, a quick side trip on The Road To Morocco before Flying Down To Rio and drinking An Awful Lot of Coffee In Brazil to get the energy to Float Up To Peru and take a last Jamaica Farewell and a night in Managua Nicaragua to avoid the things that previously Happened In Monterey driving us Deep In The Heart Of Texas en route to reacquainting ourselves with A Little Girl In Little Rock as we meander Way Down Yonder In New Orleans, picking up a little Mississippi Mud on the Alabamy Bound highway to Swanee with Georgia on Our Minds, reaching Carolina In The Morning as our buggy Carries Us Back To Old Virginny via the scenic route that´s Almost Heaven, West Virginia, finally hitting The Boardwalk At Atlantic City as we Find Our Love In Avalon On The Way To Cape May doing The Jersey Bounce to land us once and for all, Back In Our Own Backyard.
There´s No Place Like Home, but there´s nothing like words & music to stimulate the imagination and take us to countless wonderful places without leaving one´s armchair. ALL OVER THE MAP is an invitation to Get Away From It All and go Around The World: Come Fly With Me and Let Me Take You On A Sea Cruise! No passports or even toothbrushes required: just a sense of fun and a love of great American Popular Songs.
---
If you would like to engage Fred Miller for one of his Lectures-in-Song, please contact him directly at any time. For a full listing of all Lectures, click here.

Fred Miller's Lectures-In-Song comprise a series of solo programs, each an historical, anecdotal and musical profile of some great personality or important aspect of American Popular Song. These Lectures are delivered by singer/pianist/narrator Miller at the piano, and each reflects his lifetime passion and appreciation for great music. He studied classical piano in his hometown of Albuquerque from ages 7-15 but early on gave up any notion of music as a profession. At that time, Fred assumed a musical career was either one devoted to the rigid discipline of classical music or being a freewheeling rock star, and he accurately decided he had no aptitude for either. However, at age 22, upon hearing Ella Fitzgerald sing Cole Porter, he found his calling and life's mission.

Through the Seventies and Eighties, Miller studied and absorbed in minute detail the life and times and songs of nearly all the great American composers and lyricists who thrived during Broadway & Hollywood's Golden Age between the two World Wars. In 1987, he founded Silver Dollar Productions in order to produce operettas, dramas, musicals and small cabarets. Silver Dollar Productions required ensemble casts, props, costumes and, most significantly, the challenges of publicity and selling tickets, and for a dozen busy years, the company presented an unbroken string of varied and highly lauded performances.

In 1999, Miller was simultaneously underwritten by both his local Hunterdon County Library and the Art Alliance of Philadelphia to present a series of six solo Lectures-In-Song, each devoted to one of the premiere Broadway/Hollywood songwriters: George Gershwin, Cole Porter, Irving Berlin, Richard Rodgers, Jerome Kern, and Harold Arlen.

In presenting history, biography and psychology while sitting at a piano singing the superlative songs of his heroes, Miller has found a single performing medium that utilizes most of his intellectual and musical passions.The list of Lectures-In-Song that began with six in 1999 is now more than seventy(and growing!), a joyful tribute to the boundlessly rich field of American Popular Song.